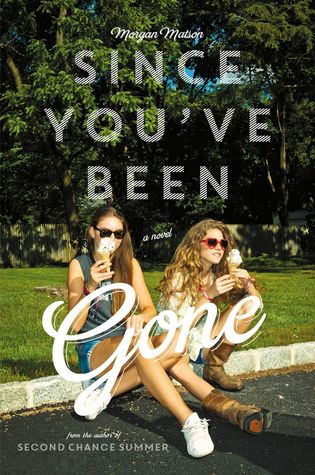 Since I've been Gone - Morgan Matson

Publisher

: Simon & Schuster

Release Date

: May 6th 2014

Genres

: YA, Contemporary

Pages

: 449

Rating

: ★★★★★ It was Sloane who yanked Emily out of her shell and made life 100% interesting. But right before what should have been the most epic summer, Sloane just…disappears. All she leaves behind is a to-do list.

On it, thirteen Sloane-inspired tasks that Emily would normally never try. But what if they could bring her best friend back?

Apple picking at night? Okay, easy enough.

Dance until dawn? Sure. Why not?

Kiss a stranger? Um...

Emily now has this unexpected summer, and the help of Frank Porter (totally unexpected), to check things off Sloane's list. Who knows what she'll find?

Go skinny-dipping? Wait...what?

This is my first Morgan Matson book. Since You've Been Gone was in every "Summer recommendations" I've watched/read so I thought, what the hell, let's read it. I knew deep down that I was going to like it.

But I didn't like it. I absolutely loved it ! This book has deserved its place among my favourites.

The story follows Emily, a not very social girl mostly known to be "Sloane's friend". One day, Sloane disappears and leave her with a list with thirteen tasks to do. In order to find her friend, Emily has to take it on herself and do all of them. No more chickening out No more excuses.

I listened to it on Audiobook and I think it would be the greatest book to start with if you're new to the format. Suzy Jackson is amazing ! It's like she has multiple voices and she interprets the characters very well. She completely appropriated them. It was 8 hours of pure happiness.

Morgan Matson has a beautiful, fluid and light writing and now I understand the hype. She worked her magic on me and made me feel Emily's feelings as they were my own.

As you can guess from the summary of the book, the character developpment is crazy. There really is a before and after the list. It's done so smoothly I couldn't even remember the Emlily from the beginning.

This book is about finding yourself, the real you beneath the shell and the author didn't leave the other characters out of this. Every single character has a purpose. And I loved all of them, especially Emily's little brother.

Then, there is the male interest, Frank Porter (Lys Porter sounds good, right ? Ahem !). It's not god-like gorgeous nor has big muscles that would make girls drool. He's not a bad boy and he's not rude. Actually, he's a very nice guy. For once, the nice guy gets the girl ! He's smart and strong-willed and did I say that I fell in love with him ?

The romance is done with the exact right pace. I don't know how Morgan Matson makes it seem so effortless.

Anyway this book exceeded my expectations.