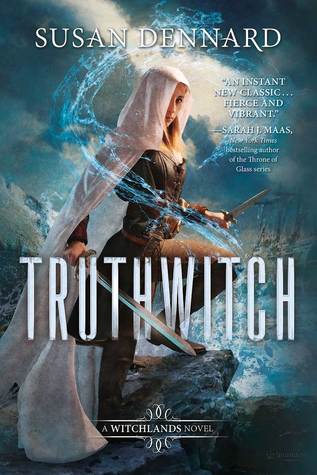 Truthwitch - Susan Dennard

Publisher

:

Tor Teen

Release Date

: January 5th 2016

Genres

: YA, Fantasy

Pages

:

416

Rating

: ★★★★★

In a continent on the edge of war, two witches hold its fate in their hands.

Young witches Safiya and Iseult have a habit of finding trouble. After clashing with a powerful Guildmaster and his ruthless Bloodwitch bodyguard, the friends are forced to flee their home.

Safi must avoid capture at all costs as she's a rare Truthwitch, able to discern truth from lies. Many would kill for her magic, so Safi must keep it hidden - lest she be used in the struggle between empires. And Iseult's true powers are hidden even from herself.

In a chance encounter at Court, Safi meets Prince Merik and makes him a reluctant ally. However, his help may not slow down the Bloodwitch now hot on the girls' heels. All Safi and Iseult want is their freedom, but danger lies ahead. With war coming, treaties breaking and a magical contagion sweeping the land, the friends will have to fight emperors and mercenaries alike. For some will stop at nothing to get their hands on a Truthwitch.

Have you ever read a book wishing it'd never end ? Well, Truthwitch is one of those. The author clearly put a lot of effort in everything. Nothing is left out.

We're thrown into a fascinating world full of ruthless politics. A war is coming and Safiya, a Truthwitch could be a very valuable and determining asset. She and her best friend or should I say Threadsister, Iseult, are chased by a horrendous Bloodwitch.

It's been a long time since I had chills while reading a book and, during the first part of the book, I felt them every time the Bloodwitch appeared.That brought me back to when I saw the nazguls for the first time (come on, they're scary !). Anyway, the Bloodwitch's charismatic and freaking badass. But I could say that about all of the characters, really.

Every single one of them are thought through. The main characters' voices are very distinct, even without reading their names you could guess whose perspective you're reading. They all have qualities and flaws, strong personalities and backstories that make them vivid and relatable.

Also, it feels good to read about a female friendship. Safi and Iseult are like the two sides of a same coin. They couldn't be more different but they complete each other and you feel their bond even when they're not together. I love both of them but I have a slight preference for Iseult (maybe because of my ship but I won't say much about that ~)

Finally, I can't review Truthwitch without mentionning the fast pacing, the action scenes and the fluid and powerful writing of the author. It has a Sarah J Maas feel and turns out they're besties (it seems I was only one who didn't know ...)

But seriously, I was hooked from the beginning until the end. Truthwitch deserves the hype and I had a great time reading it. I can't wait for the sequel to be released.