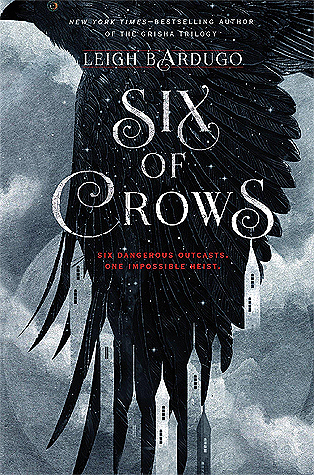 Six of Crows - Leigh Bardugo

Publisher

: Henry Holt and Company

Release Date

: September 29th 2015

Genres

: YA, Fantasy

Pages

: 445

Rating

: ★★★★★ Ketterdam: a bustling hub of international trade where anything can be had for the right price—and no one knows that better than criminal prodigy Kaz Brekker. Kaz is offered a chance at a deadly heist that could make him rich beyond his wildest dreams. But he can't pull it off alone...

A convict with a thirst for revenge.

A sharpshooter who can't walk away from a wager.

A runaway with a privileged past.

A spy known as the Wraith.

A Heartrender using her magic to survive the slums.

A thief with a gift for unlikely escapes.

Kaz's crew are the only ones who might stand between the world and destruction—if they don't kill each other first. If you're worried not to like Six of Crows because you didn't like the original serie, no need to worry, this is nothing like The Grisha Trilogy.

Six of Crows confused me as much as Shadow and Bone in the beginning. Once again, we're thrown into the world and we have to grasp everything going on and it's only when you've adjusted that it becomes amazing.
"Six people, but a thousand ways this insane plan could go wrong."




Leigh Bardugo has a gift to write charismatic characters. The use of the third person narrative was done beautifully. We're not given too much nor too less, just enough to keep us guessing and getting connected to the characters. What I liked the most is that they have very distinct voices. All of them have a reason to get into this suicide mission, they have dreams, fears, flaws and stories that make them memorable.

But that's not all. The author's prose has improved dramatically since Ruin and Rising. The vivd descriptions and the smoothly integrated flashbacks made me feel like I was there with them. Every word felt important. Six of Crows is 465 necessary pages of plotting, action, magic, emotions and humour. There was also a bit of romance floating around our characters and needless to say, I shiped like crazy.

I found myself holding my breath from time to time, I was completely immersed in the story.

Six of Crows is the proof the Grisha universe has a lot more to give and Leigh Bardugo isn't done with blowing our minds away.