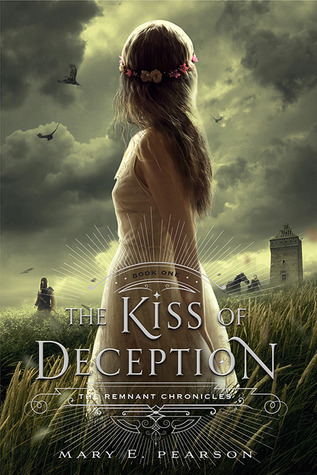 l

The Kiss of Deception - Mary E. Pearson

Publisher

: Henry Holt

Release Date

: July 8th 2014

Genres

: YA, Fantasy

Pages

: 492

Rating

: DNF

A princess must find her place in a reborn world.




She flees on her wedding day.She steals ancient documents from the Chancellor's secret collection.

She is pursued by bounty hunters sent by her own father.She is Princess Lia, seventeen, First Daughter of the House of Morrighan.he Kingdom of Morrighan is steeped in tradition and the stories of a bygone world, but some traditions Lia can't abide. Like having to marry someone she's never met to secure a political alliance.




Fed up and ready for a new life, Lia flees to a distant village on the morning of her wedding. She settles in among the common folk, intrigued when two mysterious and handsome strangers arrive—and unaware that one is the jilted prince and the other an assassin sent to kill her. Deceptions swirl and Lia finds herself on the brink of unlocking perilous secrets—secrets that may unravel her world—even as she feels herself falling in love

The Kiss of Deception is true to its title. The writing is smooth and fast-paced. I didn't realize I was halfway through until I stopped and realized what huge deception this book was.

This book isn't fantasy. if you want to travel in a new universe with an elaborated world-building with a real history and political conflicts you should find another thing to read.

Lia is the First Daughter which means she has a lot of duties and traditions to respect. In order to make an alliance with another country, she must marry someone she's never met before. So, she takes her courage in both hands and escape. Juicy, right ? Wait a minute.

The Prince who was supposed to marry her didn't want this marriage too. So what does he do after he finds out he's free ? He looks for her because she had the bravery to do what he couldn't. It doesn't make any sense, he didn't want to have anything to do with her and now he wants to meet her. Come on.

But there's more. An Assassin is sent to kill her and guess what ? He doesn't even try. Oh, yes I forgot to mention the instalove. The Prince and the Assassin just fell under her charms. I could quote you many passages that made me cringe and regret to have picked this book up.

Nothing happens. Between an Assassin unable to do his job and a Prince who clearly has nothing better to do than stalking a girl, nothing's going on. She just lives her "normal" life and every two pages she meets one of them and tries to decide which one is her favourite.

Now let's move on to the multiple perspectives. I'm a big fan of multiple POV when they're done well but in this case, they weren't. The story is told from Lia, the Prince and the Assassin's perspective. So, basically there's no mysery. We already know what they're going to do and how they feel. I didn't have to guess anything, the work was already done for me.

I avoided this book since its release and I was right to do so. I can find nothing good except for the writing. The Kiss of Deception is a good idea badly executed. And yes, it's very very overhyped.